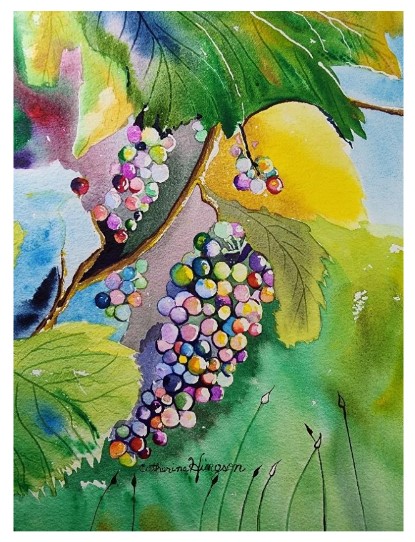 Grapes in the vineyard will help us learn watercolor techniques of shading and
highlighting, painting loosely, and using masking fluid. This is an instructor-directed class, with
demonstration and individual instruction as needed. Beginners welcome; some experience is helpful.
Materials to bring: brushes, normal watercolor set-up, water buckets. Additional supplies will be available to purchase from the instructor.

Materials provided: paper, paints, masking fluid.
Materials fee: $5 to be paid in class
Instructor: Catherine Hingson
(503) 545-9339
playfulpaintbrush@gmail.com
Date/Time Location
Mon Aug 7 10am-3pm Artists Studio Association, Lincoln City www.asaart.net
Sat Aug 25 10am-3pm Valley Art Gallery, Forest Grove www.valleyart.org
Mon Sep 11 10am-3pm Artsea Craftsea, South Beach www.artseacrafts.com
Thurs Sep 14 16 10am-3pm Dancing Coyote Gallery, Seal Rock www.susanhansonart.com