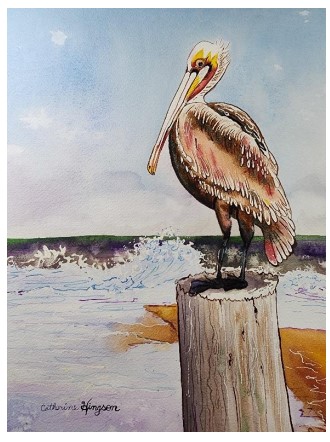 ​ We will be celebrating one of our local birds, the brown​ ​pelican, with this technique class in watercolor. We will​ explore using salt, palette knives, and other techniques to​ create texture. Color is enhanced using a drop-in method.In this directed class, you will follow along as Catherine​ demonstrates gradient washes, various ways to save the
white, and creating fine lines.
Materials to bring: brushes, normal watercolor set-up with
palette, water buckets.​ Materials provided: paper, paints, masking fluid.​ Materials fee: $5 to be paid in class
Experience: Beginners welcome, some experience is helpful
but not required.
Instructor: Catherine Hingson
(503) 545-9339
playfulpaintbrush@gmail.com
Date/Time Location
Fri July 7 10am-3pm Artists Studio Association, Lincoln City www.asaart.org
Sun July 16 10am-3pm Valley Art Gallery, Forest Grove www.valleyart.org
Tue July 18 10am-3pm Valley Art Gallery, Forest Grove www.valleyart.org
Thurs July 20 10am-3pm Dancing Coyote Gallery, Seal Rock www.susanhansonart.com
Mon July 31 10am-3pm Artsea Craftsea, South Beach www.artseacrafts.com
Sat Oct 7 10am-3pm Currents Gallery, McMinnville www.currentsgallery.com